---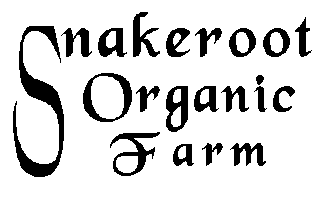 ---

---
…and now for something completely different…
---
At dawn
Canoe bow waves are quickly lost
on the shoreside
But go on out of sight
on the lake side.

-1986
---
The constant swish-swish of skis
On a day long ski.
The constant swish-swish of wiper blades
On a day long drive.

-1990
---
My dog, trotting barefoot
Steps on a garden slug
And thinks
Nothing of it.

-1999
---
Word spreads quickly
as I approach the pond.
All becomes quiet.

-1997
---
Hidden in the vines
a large warted cucumber
jumps out of reach.
A toad!

-1997
---
Delicate puffs
of marshmallow snow
carefully perched
on a branch,
await the trigger of my hat
to melt their way down my back.

-2010
---
Deep in the tomato jungle
Fruits of yellow, purple and red
Tell of their readiness
To go to market.

-2010
---
Sugarin' Chores
Snowflakes hurry through my flashlight beam,
As my boots knead new snow with spring mud,
On my nightly Hajj to keep the boil alive,
For as long as possible until the dawn,
To match the power of the flowing sap,
With my meager evaporator and will.
The prize at the finish line are jars of syrup
And Spring.

-2013
---
---
---
For over a decade we have saved several types of seeds informally for ourselves. In the past few years, we have begun getting more serious about seed saving, and have begun to offer our own seeds for sale to those who are looking for organically grown seeds. We are a MOFGA Certified Organic grower.
Seed packets are $3.00 each for most varieties. Amount of seed per packet varies, but is usually ½ tsp., and is plenty for most home gardeners; see variety descriptions. For larger quantities, call (207-416-5418) anytime or email us.
Our seeds are available at any of our farmers' market locations, at the farm, or by mail order. If ordering by mail, add $1.00 to your order total to pay for packing and postage. All seeds are available year-round while supplies last, unless otherwise noted in description.
All planting and blossoming times and season lengths are based on our experience here in central Maine. All seeds are open pollinated (non-hybrids), unless otherwise indicated, and are organically grown.
Here's an article on how we save tomato seeds.
HOW TO ORDER OUR SEED:
Send us an email or snail mail with a list of the items and sizes you wish to order. Send us a check via snail mail to cover the amount of the seeds plus $1 for S&H. Don't forget to include your postal address!
---
FLOWER & HERB SEEDS
Echinacea, Echinacea Purpurea, also called purple coneflower. Grows three to four feet tall starting the second year. Seed may be collected every year. This is the variety used for herbal tinctures. $3 per pkt; $8 for 1/2 oz.; $12 for 1 oz.
Lupine. Russell strain, brilliant mixed colors, including many bi-color variations such as purple and white, violet and white, violet and purple, pink and white, pink and red, yellow and pink, and many more. We only have mixed colors, so you won't know your exact colors until they begin to bloom. We have been saving our own seed since 1993, and usually have enough seed to last year round. Perennials, flowers starting the second year in June, although some will blossom in August or September of their first year. Blossom spikes from 12 to 18 inches long, last up to two weeks each. Vigorous plants will produce multiple flower spikes. Plant in late fall or early spring.
$3 per ½ oz. pkt. (=1 tbsp. ≈ 500 seeds) ; $20/4 oz.
For more photos and info on growing lupines, see our Lupine brochure.
TOMATO SEEDS
All tomatoes listed are open pollinated (non-hybrids).
Moskvich tomato. 60 days. Russian heirloom from Siberia, where they need to have early tomatoes. Juicy, seedy, delicious tennis ball sized tomatoes when they start, tapering to golf-balled sized as fall approaches. Cold tolerant, so a cool summer won't stop these tomatoes. A real chin-wetter when you bite into your first garden tomato in early August. Indeterminate. ½ tsp per pkt. ($3)
Hogheart tomato. 80 days. This large (two inches wide by seven inches long), banana-shaped heirloom Italian paste tomato is our favorite for making sauces and sandwiches. We have been saving and replanting our own seed since 1988, and have supplied these to Fedco Seeds. Ripens late August. ½ tsp per pkt. ($3)
Heart tomato. 70 days. Pink, tennis to softball sized heart-shaped tomato with the smooth silky texture of Pruden's Purple. Originally from Italy, the seeds were given to us by Forest Frost who says they were his mother's favorite. The unusual shape and great flavor make these a tomato you will want to grow. Indeterminate. ½ tsp per pkt. ($3)
Pruden's Purple tomato. 72 days. Large 1 pound delicious silky smooth textured pink sandwich tomato, often called "the early Brandywine". Ripens mid-late August. Some fruit will be oddly shaped. Fruit may split after heavy rains. Indeterminate. ½ tsp per pkt. ($3)
Yellow Pear Cherry tomato. 75 days. Lemon yellow, mild flavored pear-shaped cherry tomatoes. Huge indeterminate plants are more productive of higher quality fruit when trellised. Tomatoes grow in clusters of 8 to 16 fruit. Pear shape makes for quicker picking, and there is less tendency to split in wet weather than round cherry tomatoes. ½ tsp per pkt. ($3).



A selection of our cherry tomatoes.
Red Pear Cherry tomato. 75 days. Similar to Yellow Pear Cherry tomatoes, but red in color and with more tomato flavor. ½ tsp per pkt. ($3)
Black Cherry Tomato. 70 days. A dark purple, large (1-1½ inchs) heirloom cherry tomato with a unique Brandywine-like flavor. Indeterminate plant bears loads of clusters of dark purple cherry tomatoes, similar in growth and productivity habit to Gardener's Delight. ½ tsp per pkt. ($3).
Gardener's Delight tomato. 75 days. Large round cherry tomatoes with delicious flavor. Huge indeterminate plants bearing cherry tomatoes up to one inch in diameter. ½ tsp per pkt. ($3).
Lilian's Yellow tomato. 75 days. Large round, slightly flattened lemon yellow tomatoes ranging from 8 oz to 1 lb. Fewer irregular tomatoes than Yellow Brandywine, though there are still some. Has a beautiful faint rose blush on the blossom end just before full ripeness. ½ tsp per pkt ($3)
Snakeroot Golden Arrow tomato. 75 days. Heavy yielding golden plum tomato, three to six inches long by one to two inches wide. Beautiful and tasty in salads. Ripens mid to late August. Turns a light orange color when cooked or made into sauce. We bought these almost a decade ago as the hybrid "Italian Gold", and began de-hybridizing it. Our goal is to produce a dark yellow Hogheart, and we are continuing to select for longer and larger tomatoes. You will still find considerable variation in size and length of tomatoes as we continue the selection process, but you will likely not find tomatoes like these anywhere else. Very few seeds, very firm, meaty texture, our densest tomato with very little juice. Ultra determinate, allowing for closer plant spacing. ½ tsp per pkt ($4)
OTHER VEGETABLE SEEDS
GARLIC: Red German Garlic Bulbs. This is a rocambole, or top-setting, stiff-necked garlic with wonderful rich garlic flavor, far surpassing the flavor of the the more commonly available softneck garlic. The easy-to-peel cloves accur ina single layer around the stem. Red German is similar to the wild garlics growing on the mountainsides of Kazakhstan north of the Himalayas, where garlic originated. In July, curly-cue scapes grow from the top of the plant. These may be harvested for cooking or allowed to remain until harvest to produce bulbils. Plant garlic a few weeks before fall freeze up, and harvest in early August or when the bottom leaves begin to yellow. Plant in greenhouse beds for earlier season by a month. Keeps well into January and beyond. For more info on our garlic and how to grow it, see our garlic brochure. Good for both planting and eating. Shipping begins mid-September each year to assure we are shipping fully cured garlic.
Medium size (1½ to 2 inches) bulbs are ¼ lb. for $3.00; 1 lb. and up for $10/lb.
Shipping is via USPS and is the same to any address in the U.S.; we do not ship outside the U.S. Shipping begins August 15 each year and continues until late winter.
Shipping rates are:

One pound or less: $7.50.
Two to ten pounds: $11.00.
Eleven to fifteen pounds: $17.50.
Over fifteen pounds: multiples of above rates.
Or, you may drop by for a visit to pick up your garlic order. Directions to our farm are here.

To order: Email us with your order including your shipping address, and we'll put up your order. Then mail us a check for the total and we'll ship when your check arrives. Inside your box, you'll find the garlic is in a mesh bag which is also excelent for storing your garlic. All of our contact info is at the bottom of every page at this website.
Available at our farmers' market stands each year from mid-August until sold out, usually early winter.
GARLIC: Red German Garlic Bulbils. Bulbils are harvested from the topsetting parts of the garlic plant, the "scapes". If left uncut, the scapes mature into clusters of bulbils. Each bulbil is from pea to marble size, and is genetically identical to the plant on which is grows, since this is all vegitative reproduction and no pollination is involved. Plant bulbils to grow garlic grass in a windowsill pot or in the garden; plant in garden late fall or early spring for June harvest of garlic scallions, or grow to maturity for garlic rounds. Use rounds in cooking like garlic cloves or replant rounds to get garlic bulbs the following year. Rounds are harvested when the tops tip over in early July, just when regular garlic is producing scapes. Planting bulbils is the least expensive way to produce a lot of garlic, although it takes two years to produce garlic bulbs. For more info on our garlic and how to grow it, see our garlic brochure and our other garlic articles in menu at left. Note: bulbils are not true "seeds"; they are live garlic and should be stored just like you would store garlic bulbs.
One ounce for $1.00; 1/4 lb. for $3.00; 1 lb. and up for $10/lb.
Available September thru April only. We usually have a great supply until spring.
Shipping rates are the same as for garlic (above); orders for garlic bulbs and garlic bulbils may be combined to calculate rate.
Takinogawa Gobo (Japanese burdock root - Arctium Lappa). Related to the common burdock weed, this is a refined variety originally from Japan. Eighteen inch long roots are common; some reach twice that length. Early in spring or late in fall, plant seeds 2 inches apart. Plant on a 2-3 foot high soil mound for easier digging in the fall or next spring. 1 tsp. per pkt. 1 pkt $3; 1 oz. $12.
RHUBARB: Seed collected each summer from our own Rhubarb patch. Plant thickly in growing trays before snow very early in Spring. When seedsling have first true leaves, transplant into individual 3-4 inch pots for a month or two, then transplant into garden. Mulch. Rhubarb stalks will be ready to pick lightly by year 3, more in year 4, and then heavily in years 5-50! $3 per 1 tbsp pkt. (approx 50 seeds).
HOW TO ORDER OUR SEED:
Send us an email or snail mail with a list of the items and sizes you wish to order. Send us a check payable to "Snakeroot" via snail mail to cover the amount of the seeds plus $1 for S&H (except for garlic and bulbils: see above). Don't forget to include your postal address!
Note: All dates refer to planting in our central Maine climate.
---
---
---