---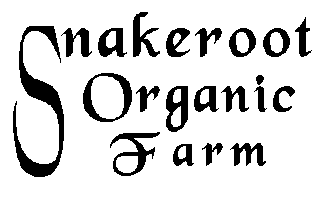 ---

---
…and now for something completely different…
---
At dawn
Canoe bow waves are quickly lost
on the shoreside
But go on out of sight
on the lake side.

-1986
---
The constant swish-swish of skis
On a day long ski.
The constant swish-swish of wiper blades
On a day long drive.

-1990
---
My dog, trotting barefoot
Steps on a garden slug
And thinks
Nothing of it.

-1999
---
Word spreads quickly
as I approach the pond.
All becomes quiet.

-1997
---
Hidden in the vines
a large warted cucumber
jumps out of reach.
A toad!

-1997
---
Delicate puffs
of marshmallow snow
carefully perched
on a branch,
await the trigger of my hat
to melt their way down my back.

-2010
---
Deep in the tomato jungle
Fruits of yellow, purple and red
Tell of their readiness
To go to market.

-2010
---
Sugarin' Chores
Snowflakes hurry through my flashlight beam,
As my boots knead new snow with spring mud,
On my nightly Hajj to keep the boil alive,
For as long as possible until the dawn,
To match the power of the flowing sap,
With my meager evaporator and will.
The prize at the finish line are jars of syrup
And Spring.

-2013
---

on the Snakeroot Road in Pittsfield, Maine
27 Organic Farm Road, Pittsfield ME 04967
ph (207) 416-5418

Gardening for the public since 1995.


Also find us on

lois@snakeroot.net or tom@snakeroot.net
---
Snakeroot Organic Farm began in 1995 and is a MOFGA certified organic farm with five acres of gardens producing mixed vegetables, fruits, perennials and herbs. We are members of and certified organic by MOFGA, the Maine Organic Farmers and Gardeners Association, which certifies about 400 farms in Maine. Our farm is inspected and our practices scrutinized by their inspectors each year. Our certification number is 9411.

We also operate a 450 tap maple sugarbush and six greenhouses for producing seedlings and early and late vegetables. Tom and Lois have been farming together since 1990, and have over 50 years combined experience growing organically in central Maine.

Learn all you wanted to know about our farm (and more!) by using the extensive menu on the left. We believe it is important not only to let the public know in detail how we farm, but to be an information resource to other farms, both new and not so new. Over the years we have learned a tremendous amount from others and this is one way we can repay our debt to the agricultural community at large.

We have been building this website since 1998, each year adding pages and photos during the (relatively) less busy winter months, and now there are over 50 pages included here. We have found that this website performs three functions: 1) Promotion of our farm and its products; 2) Providing information and education to anyone interested in growing on a small scale or learning in detail how we operate; and 3) A journal of how the farm has developed over the years—the website has become our primary way of recording our history for our own records.

To see how this website has grown, or to see what's been added since your last visit, click on the "What's New Here" at the top of the menu. For more information about our farm please review our newsletter archive and/or subscribe to our newsletter. It comes out six to ten times a year and is the best way to get the February reminder to join our CSA.

Where else on the web can you find us? Although we put most of our energy into this website, we can also be found at:
---
---




---


Lois and Tom with the trailer we hauled to market behind our Honda Civic when we began farming here in '95.
---
Website designed and maintained by

On the web since 20-Feb-98.




Prints of this original oil
painting available from
Mary Town Jacqua.
---