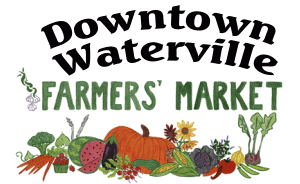 HOME
---

SHOPPERS' SECTION
Meet the
Market Members
Visit our
Facebook Page
Maine Federation of
Farmers' Markets
---

MEMBERS' SECTION
Application
Market Rules & By-Laws
Meeting
Minutes & Agendas
Other
Market Documents
---
---

Welcome to
www.WatervilleFarmersMarket.org
the home page of the


··· Established 2006 ···

---

Weekly Summer Market
Last Thursday in April until
Thursday before Thanksgiving
Every Thursday ~ 2–6 pm
All Season ~ Rain or Shine
in the Concourse along
Appleton & Main Streets.

Winter Market
December to April
1st & 3rd Thursdays
Open 3–6 pm
at Thayer Hospital
in the Dean Conference Room

---

The DWFM is a 100% producer-only market; shopping at the market means you're buying directly from the producer.

---

The Downtown Waterville
Farmers' Market
was organized in winter-spring
of 2006 by

Waterville Main Street, Inc.
Thank you!
...and received substantial
promotional funding
in 2006-2015 from


Thank you!