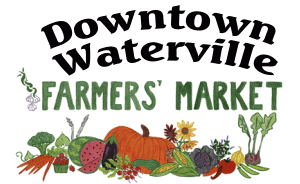 HOME
---

SHOPPERS' SECTION
Meet the
Market Members
Visit our
Facebook Page
Maine Federation of
Farmers' Markets
---

MEMBERS' SECTION
Application
Market Rules & By-Laws
Meeting
Minutes & Agendas
Other
Market Documents
---
---


2015 Membership Directory
New members for this year are noted in RED.
Updated for each year in March.
Click on photos to enlarge.
---
2015 Steering Committee
Chairperson: Clayton Carter
Secretary: Rachel Katz
Treasurer: Jean Koons
Assistant Treasurer: Karl Rau

Market Manager: Hanne Tierney
Winter Manager: Mark LaCasse
At Large #1: Fred Nassar
At Large #2: Tom Roberts
---
A Page-N-Thyme Farm, Garden & Soap Company
Joined the market in 2006.
Joanne & David Gorey, 495 West Mills Road, Anson 04911, ph. 696-4949, apnt.farm@gmail.com


We are a small farm & we raise dairy goats (Nubians) and meat goats (Boers). Also we have non-caged laying hens and in the summer we raise meat chickens, pigs and turkeys. We have 8½ acres with 1 acre across the street where our organic garden is.
We raise lots of garlic and herbs along with some fruits and veggies. Our dairy goats produce so much milk that we decided to start a soap business and make handcrafted goat milk soap right in our farm kitchen. It's a wonderful product and we are very proud of it!
We will be at market all season long.
---
---
Bob & Mary Burr, 1334 Beech Hill Rd., Mercer 04967, ph. 587-4068
bburr@tdstelme.net
www.blueribbonfarm.net


Blue Ribbon Farm makes fresh pasta and ravioli using the finest ingredients. Our pasta features many local products including Maine-grown and milled whole wheat flour, free range eggs, and ricotta based ravioli fillings such as spinach and garlic, basil pesto, Maine smoked salmon, and chicken, cranberry and sage.
We offer organic Italian olive oil infused with our garlic and basil as well as our own hand made pasta sauces.
We will be at market from late April to late October. We also attend the Skowhegan and Brunswick's Crystal Spring Farmers' Markets.
---
Hanne Tierney, 74 Dogtown Road, Palmyra 04965, cell: 416-2676,
email: hanne@cornerstonefarm.us
website: http://www.cornerstonefarm.us/
Visit us on Facebook


Are you looking for Amazing tomatoes? Smokey Bacon? Arm loads of Leafy Greens? And a grill full of wicked good Sausages? Well then you have found the right farm! We raise our hogs on pasture; they are allowed to run, root, wallow, and just plain lay in the sun enjoying the fresh air! Our vegetables are crazy fresh! We grow a lot of heirlooms which means our veggie varieties are selected to taste amazing. With all this great food you will look like a super hero cook when you serve it up to your friends and family!
We will be at market all season long from late April to December.
You can also find us at the Orono, Portland, and Bangor Farmers' Markets as well as at the winter farmers' markets in Orono and Portland Winter Market.
---
Eagle View Gardens and Haunted Trail Pumpkins
Joined the market in 2006.
Fred Nassar and Family, 882 Garland Road, Winslow 04901, ph. 660-5179, frednas@gmail.com


We sell a variety of vegetables and herbs. All grown naturally and picked fresh daily. Bulk orders for beans, cukes, beets, tomatoes, etc., are welcomed. Order early. Visit our place in the fall for pumpkins, corn stalks, and all your decorating needs. We have the only local u-pick pumpkin patch. The patch features a haunted trail! Groups are welcomed. Call for details. Finally, we have a limited supply of free range eggs.
We will be at market all season from early May to mid November.
---
Clayton Carter, 582 Old County Road, Etna ME 04434, ph. 951-5953,
clayton@failbetterfarm.com,
www.failbetterfarm.com
Visit us on Facebook


Rainbow Carrots! Tender Broccolini! Crisp Radishes! Juicy Tomatoes! As 9th generation family farmers, we produce beautiful and delicious MOFGA certified Organic vegetables. We invite you to bring our organic produce home to your family, adding color, taste, and good health to your table.
---
Good Bread
Joined the market in 2008.
Karl and Laurie Rau & Family, 1 Birch Lane, PO Box 212, Brownfield ME 04010, ph. 368-4788, cell 416-4788, info@good-bread.com


Good Bread is a small family owned and operated baking business that has recently relocated to the western mountains of Maine. We specialize in fresh and healthy baked products. Using natural and organic ingredients—some locally sourced—we create sourdoughs and hearth breads that we hope will bring you back again and again.
We look forward to seeing you each Thursday throughout the market season from April to December. We also attend the Skowhegan Farmers' Market.
---
The Hayman Farm
Joined the market in 2012.
Donald Eskelund & Heidi Jacobs, 189 Heywood Road, Winslow 04901, ph. 873-7600, don@haymanfarm.com, www.haymanfarm.com
We offer high quality grass fed beef from our Angus and Angus cross beef herd. We do not use growth hormones, antibiotics, or other artificial means to promote growth. We will also bring in cantaloupe and watermelon and a few other veggies, cut flowers, eggs, and herbs.
We will also offer prints of Heidi's watercolor paintings.
We will be at market all season from early May to late September, and maybe longer.
---
Heald Farm LLC
Joined the market in 2006.
Mark Rollins, 1227 Bangor Road, Troy 04987, ph. 948-2111, penobscotrider@yahoo.com,
and on Facebook.


Heald Farm LLC specializes in the production of bi-color sweet corn. We have corn as early as nature allows, usually the last week of July. We provide sugar enhanced varieties, picked fresh daily through October. Fresh native sweet corn is our specialty. We take pride in providing the highest quality sweet corn for the longest possible season. We will also have red potatoes.
We will be at market from late July to early October. We also attend the Brewer Farmers' Market and the Fairfield Farmers' Market.
---
---
100 Acre Farm
Joined the market in 2006.
Ernie Ames, 10 Ten Lots Road, Oakland 04963, ph. 465-3094, cell 314-7359, 100acrefarmoakland@gmail.com


We are a certified naturally grown farm. We raise a variety of mixed veggies like tomatoes, salad greens, summer squash, zucchini, eggplant, etc. We also have free range eggs, and tree-ripened peaches.


We will be at market from late April through late October.
---
Kenerson Farm
Joined the market in 2006.
Donald and Catherine Kenerson, 1266 South Solon Road, Solon, 04979, ph. 431-3322,kenerson1@gmail.com


Kenerson farm has 116 acres and was established in 1998. We raise American Buffalo (Bison). Our products are naturally raised without the use of hormones, chemical or antibiotics. Our Buffalo eat high quality hay and are on pasture in the summer, with plenty of room to roam. We invite you to purchase some of our delicious buffalo burgers, steaks, ribs, roasts or sausages ... American Buffalo, healthy never tasted so good!
We will be at market from late April to November.
---
Jean Koons, 795 Pond Road, Sidney 04330, ph. 547-4171, kennebeccheesery@gmail.com, www.KennebecCheesery.com
Also on Facebook


We hand-craft small batches of cheese and yoghurt using milk from our Alpine/Saanen goats. Our goats are pasture fed when pasture is available, otherwise they eat hay made on the property and GMO-free grain. Goat cheeses include chevre cobbles rolled in herbs, or in oil with seasonings, feta, paneer, ricotta, and an aged goat cheese called Kennebec Highlands. From a neighbours organic Jersey cows' milk we produce full cream and low-cream yoghurt (in refundable glass jars) and other fresh and aged cheeses.
We will be at market from late April to December. We also attend the Skowhegan Farmers' Market and the Wednesday and Saturday Portland Farmers' Markets.
---
Mark & Kelly LaCasse, 4 Madison Ave., Skowhegan 04976, ph. 779-4185, themainemeal@rocketmail.com, on Facebook, website coming soon.


Gourmet prepared cuisine featuring locally sourced ingredients. The Maine Meal is a licensed food processing kitchen located in downtown Skowhegan. Owners, Mark & Kelly LaCasse are native Mainers with a commitment to Maine food security. They are procuring high quality ingredients from more than 30 local suppliers to create gourmet prepared frozen cuisine. As a graduate of the Culinary Institute of America (CIA Hyde Park, NY), Mark uses traditional culinary methods to contrive a vast array of French fusion menu items including main dishes, side dishes and soups. Stock your freezer with The Maine Meal for that unexpected busy evening or hectic week. Celebrate a special occasion with loved ones and have time to enjoy it! Impress your guests with a low-stress dinner party!

All menu items are vacuum sealed, frozen portions for one or two adults. Some menu items will rotate weekly, others are permanent. Although our kitchen works with large batch cooking, we do our best to accomodate customers with special requests. For dietary restrictions, custom portions or other requests please contact Chef Mark directly. Pre-orders are accepted and encouraged!

To learn more about The Maine Meal, see where else to find us, and connect with our amazing group of local suppliers, visit us on facebook and/or subscribe to our newsletter!

PRE-ORDER MARKET PICK-UP: Contact Mark via phone, email, or facebook and he will have your order ready for pick-up at the market. Three days notice is requested.
---
Peacemeal Farm
Joined the market in 2006.
Marcia Ferry & Mark Guzzi, 25 Peacemeal Lane, Dixmont 04932. ph. 257-4103, peacemeal@midmaine.com


We grow a wide variety of MOFGA-certified organic veggies including peas, beans, tomatoes, melons, squash, garlic, onions, carrots, potatoes, apples and much more. We will have seedlings in the spring for your garden and produce for winter storage in the fall. Now accepting Food Stamps and WIC checks.
---
Tom Roberts & Lois Labbe
27 Organic Farm Road, Pittsfield 04967
ph. 416-5417
Tom@snakeroot.net, Lois@snakeroot.net
www.snakeroot.net/farm and on Facebook
Our 5 acres of MOFGA certified organic gardens provide shoppers with the finest vegetables and culinary herbs, as well as offering blooming lupines & other perennials in recycled plant pots. We offer many unusual items including garden seeds, grapes, gobo, celeriac, dried herbs and dried tomatoes. Visit our gardens and greenhouse anytime, or come to our annual guided farm tour on the second Sunday in July, noon to 4pm.
Ask about our CSA plan and about bulk purchases of tomatoes, basil, parsley, carrots, garlic, onions, winter squash, etc.
At market all season, late April to November. We're also at the Pittsfield, Orono, Unity, and Newport Farmers' Markets.
---
Kathy & Bruce Chamberlain, 77 Bartlett Hill Road, Monroe 04951, ph. 323-2850
stonefoxfarm@mainelywired.net
www.stonefoxfarmcreamery.com
please like us on Facebook.
We produce ice cream in our small plant in Monroe, Maine. We use all natural milk, cream and sugar (no high fructose corn syrup). We use all natural flavorings and extracts, Maine fruit and maple syrup whenever possible. Our Carpigiani batch freezer was made in Bologna, Italy and makes about 2.5 gallons of ice cream in 10 minutes. Our blast freezer quickly chills the ice cream down to -20°F so ice crystals don't form. Our overrun is small (the amount of air whipped into the mix) resulting in a rich and creamy ice cream treat. We also offer frappes and hot cocoa and brewed coffee in cold weather. Our ice cream can be purchased at Barrels Community Market and at Uncle Deans Good Groceries.


We will be at market from early May to late October. We also attend the Rockland Farmers' Market and Augusta's Farmers' Market at Mill Park.
---
Rachel Katz & Sam Hazlehurst, 105 Troy Center Road, Troy 04987, ph. 323-8653, rachel@terranianfarm.com
www.terranianfarm.com
On Terranian Farm, we're straddling two eras, using draft horses and the lastest, best practices to grow our MOFGA certified organic vegetables, flowers and herbs. Our delicious vegetables are often interesting varieties that you've never had before and always super fresh, harvested just for you! We love giving out cooking ideas and gardening suggestions, so come on by and see us at market.
We will be attending market from early June to December. We're also at the Orono Farmers' Market.
---
Mary Perry, 538 Augusta Road, Belgrade 04917, ph 495-2593 or 649-3331, www.winterberryfarmstand.com


Winterberry Farm is a certified organic horse and oxen powered family farm run by Mary Perry and her three children: Kenya, Gil and Sage. Our CSA is 20 weeks in the summer and four months in the winter.
We offer goods from our farm store kitchen including pies, breads, cookies and soups. Flower and herb bouquets from April to October.
We hope to be at market from April to late December. We also have a stand on Route 27 in Belgrade.
---
Everett & Lee Worcester, 356 Lyford Road, Orneville ME 04463, 943-8804, 943-5501, inquiries@wildblueberryproducts.com, www.wildblueberryproducts.com


Our blueberry farm and roadside stand are located in Orneville just south of the Milo town line on Rt. 11. We produce fresh, clean berries in quart & pint boxes as well as in freezer ready 5 qt. boxes. As a by-product of the pollination process we sell delicious blueberry honey. We produce a number of value added products including blueberry jam, jelly, syrup, pie filling, and a blueberry juice drink. We also produce sugar-free blueberry jam and syrup and bake and sell blueberry pies and muffins. We offer our blueberry products both wholesale and retail.
---